Thomas Blondel Seal - Guernsey
Blondel Privy Seal from 1471
La Societe Guernesiase Report and Transactions, 1928 (not 1931 as referenced), Volume #10, plate VI.

Big thanks to Dir. Vikki Hart (née Ellis) MA - Island Archivist - Island Archives -States of Guernsey. Dir. Hart was able to track this Seal Image and Plate Down.
Seal of Thomas Blondel attached to a document dated 03 March 1473/4.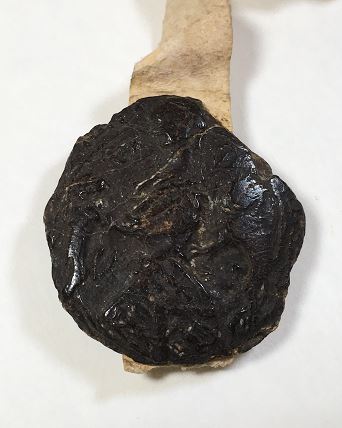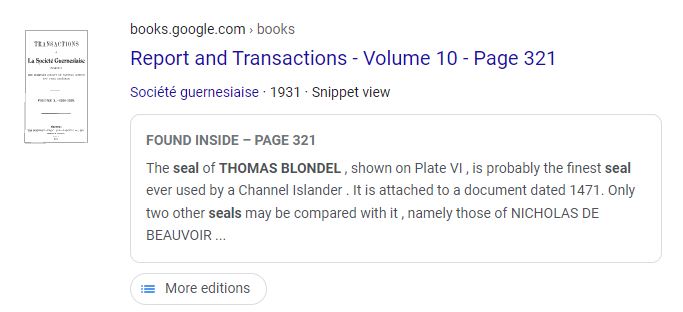 A privy seal refers to the personal seal of a reigning monarch , used for the purpose of authenticating official documents of a much more personal nature. This is in contrast with that of a great seal , which is used for documents of greater importance.
The privy seal appeared early in the 13th century in the custody of the clerks of the king's chamber. It was soon transferred to the wardrobe clerks, and gradually its importance increased until by the early 14th century the keeper of the privy seal was the third minister of state. The keepership gained further prestige in midcentury, when the great seal was entrusted to the keepers who went abroad with Edward III. As the privy seal grew in importance, the king preferred another small seal for authenticating correspondence and warrants. Under Edward II (ruled 1307–27) there was a secret seal distinct from the privy seal. By 1400 the signet, as the secret seal was then called, was in the charge of the king's secretary. The signet rather than the privy seal became the originating force in administration, and from 1540 there were two secretaries, each with two signets. The privy seal and signet seal were both single armorial seals.